Course details
◆ Unlimited drinks ◆ 1) Weekday only "unlimited" 1480 yen 2) 2 hours 998 yen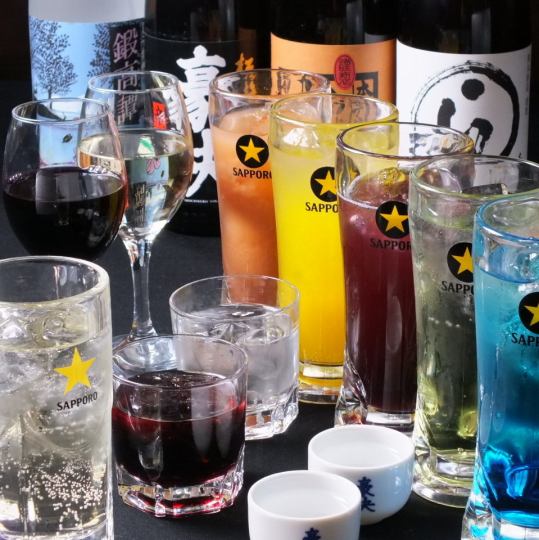 By using a coupon998 yen
2 hour system / Unlimited drinks are available at ¥ 1480
All-you-can-drink available

★ ☆ All you can drink menu at an Arko bar ☆ ★
Available days for reservation

Monday - Sunday - Public holidays - Holidays
※ Sorry! Unlimited drinks all you can do is limited only from Sunday to Thursday ☆ Other tickets and services can not be used together, unavailable for courses, 2 or more items required per person !! 1 person ~ Available !!
Course menu
Please check the following unlimited drink menu!
For dishes please order more than 2 clothes from the menu table on the day!
All-you-can-drink menu
·Highball
· Tris High Ball / Lemon High Ball / Lime High Ball / Cork High Ball / Ginger High Ball / Calpis High Ball / Mango High Ball / Guava High Ball / Kyoho High Ball / Yuzu Hi Ball
·Plum wine
· Plum extract finished black plum wine / three kinds of luxury polyphenol red plum wine / special selection Yuzu plum wine
· Shochu high
· Jasmine split / oolong split / green tea split
· Via cocktail · New genre
· 【Via Cocktail】 Shandigaf / Panachet 【Wheat and Hop】 (Medium Mug)
· Shochu · Sour
· [Tsu] Kokui / [Wheat] Konumi / Lemon Sour / Lime Sour / Big Peak Sour / Guava Salt / Mango Sour / Calpis Sour / Yuzu Honey Sour / Grapefruit Sour
· Cocktail 1
· Cassis soda / cassis jasmine / cassis orange / cassis grape / cassis oolong / peach fizz / fuzzy neeble / reggae punch / peach jasmine / screwdriver / moscommeureur / kalua milk
· Cocktail 2
· Bulldog / Vodka Tonic / Cuban Libre / Daikiri / Lamb Back / Gin Tonic / Jin Back / Jin Lime
· Wine · Sake
· 【Wine】 Glass Wine (Red · White) / Decanter Wine (Red · White) 【Japanese Sake】 Shochiku Meishi / Dry Dry
·Soft drink
· Jasmine tea / green tea / oolong tea / cola / grapefruit juice / ginger ale / tonic water / calpis / orange juice
· "Plan + 300 yen" all you can drink
· Beer ⇒ Wheat and Hop Cocktail ⇒ Cassis Milk / Peach Milk / Malibu Milk / Shandigaf / Panache / Via Splitzer Plum wine → Special Yuzu 梅 酒
· "Plan + 500 yen" all you can drink
· Sapporo draft beer black label / horn high ball / shochu ⇒ 【potato】 yam yam 【wheat】 black yokaichi · yakiwa 【shiso】 forgotten
2018/12/05 update