Course details
Salary man's ally! 2 hours drinking and eating All you can eat as much as you want!? 【Renko number course】 7 items 3480 yen ⇒ 2980 yen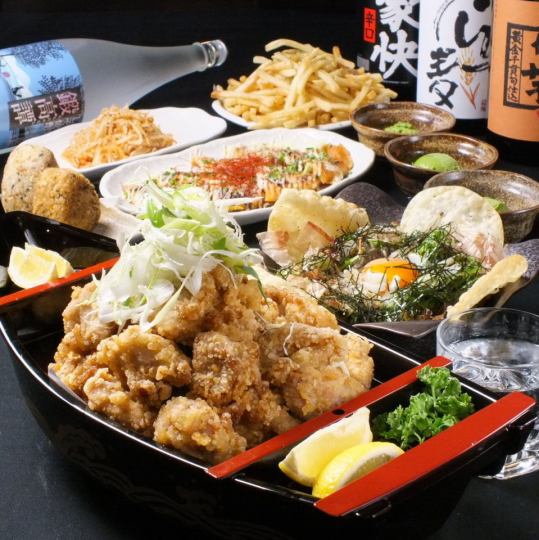 By using a coupon2980 yen
All-you-can-drink available

★ ☆ All-you-can-drink menu at the coffee bar ☆ ★ 2H (90 minutes LO) All you can drink
Reservation deadline

Until 23 o'clock the day before the store visit date
Available days for reservation

Monday - Sunday - Public holidays - Holidays
For all members of society and students must see ☆ To circle and social gatherings for activities etc ♪ You can rent private room for over 20 guests ♪ You can fully charter in the store for over 50 people! Decorate banners and store decorations as well We will cooperate! For even 10 people or more please make a reservation for one secretary! Use by all means !!
Course menu
Salary man's ally! 2 hours drinking and eating All you can eat as much as you want!? 【Renko number course】 7 items 3480 yen ⇒ 2980 yen
~ Course detail details ~
【1】 addictive! Spicy spicy bean
【2】 fried crisp crisp salad
【3】 Everyone loves it! Rakko Fries Potato
【4】 carefully selected! Freshness preeminent fish mackerel
【5】 specialty! Karate Funamori "Arunko"
【6】 street style sauce yakisoba
【7】 Today's dessert
**************** Circle · New Year's advance reservation visit benefit ********************
Please tell us when you make a reservation ♪ ♪ Please check the coupons!
【1】 Group using for 10 people or more → Secretary 1 person free!
【2】 Our shop staff will shoot group photos!
A memorable important group photo taken by our staff ♪
Please do not hesitate to tell us!
【3】 Our staff is excited with full power!
If there is a necessary scene, such as a fitting hand, please do not hesitate to tell me!
Anyway to customers who are the leading characters, customers who visited us
200% will be excited with the whole staff so that you will be pleased !!!!
Since we will correspond as much as possible even with the contents other than the above,
Please contact our staff for nothing!
**********************************************
**********************************************
All-you-can-drink menu
·Highball
· Tris High Ball / Lemon High Ball / Lime High Ball / Cork High Ball / Ginger High Ball / Calpis High Ball / Mango High Ball / Guava High Ball / Kyoho High Ball / Yuzu Hi Ball
·Plum wine
· Plum extract finished black plum wine / three kinds of luxury polyphenol red plum wine / special selection Yuzu plum wine
· Shochu high
· Jasmine split / oolong split / green tea split
· Wheat with hops
· Medium mug
· Via cocktail · New genre
· 【Via Cocktail】 Shandigaf / Panachet 【Wheat and Hop】 (Medium Mug)
· Shochu · Sour
· [Tsu] Kokui / [Wheat] Konumi / Lemon Sour / Lime Sour / Big Peak Sour / Guava Salt / Mango Sour / Calpis Sour / Yuzu Honey Sour / Grapefruit Sour
· Cocktail 1
· Cassis soda / cassis jasmine / cassis orange / cassis grape / cassis oolong / peach fizz / fuzzy navel / reggae punch / peach jasmine / screwdriver / moscommeureur
· Cocktail 2
· Bulldog / Vodka Tonic / Cuban Libre / Daikiri / Lamb Back / Gin Tonic / Jin Back / Jin Lime / Cassis Milk / Peach Milk / Kalua Milk
· Wine · Sake
· 【Wine】 Glass Wine (Red · White) / Decanter Wine (Red · White) 【Japanese Sake】 Shochiku Meishi / Dry Dry
·Soft drink
· Jasmine tea / green tea / oolong tea / cola / grapefruit juice / ginger ale / tonic water / calpis / orange juice
2019/01/01 update